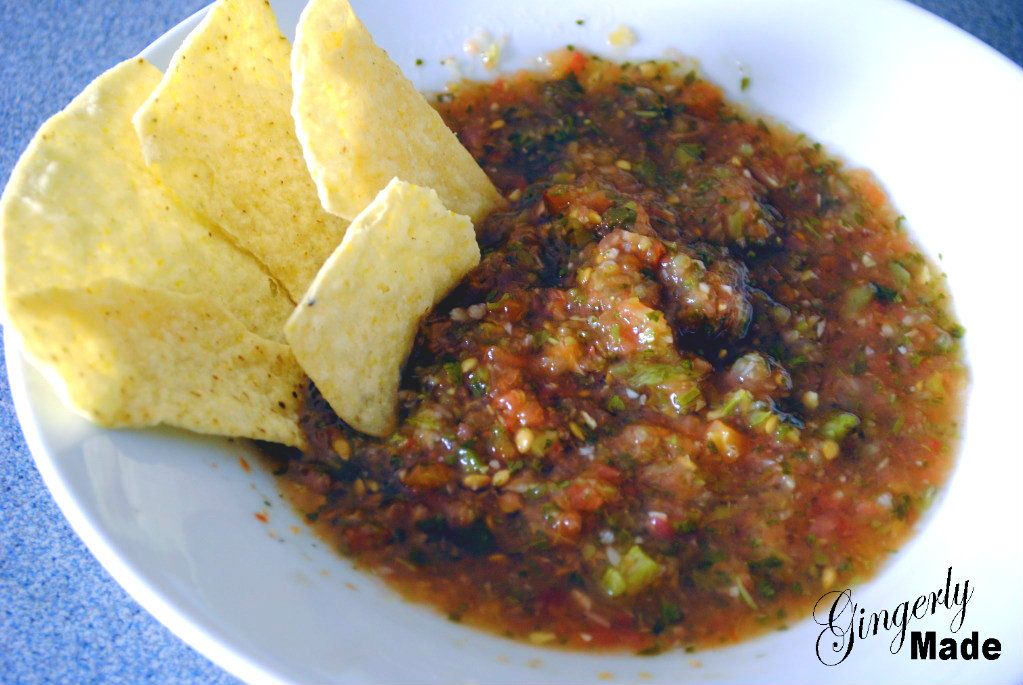 Hubs and I love good salsa. Chips and salsa are a frequent night time snack around our place.And nothing is better than salsa we made from our veggies straight from our garden.
Not every ingredient came from our garden this time around, but it easily could. I looked at several salsa recipes before coming up with this one and none of them sounded just right to me. So, I took a little from this one and a little from that one, tasted here and there as I mixed until I got just the right flavor.
This recipe makes 2.5 quarts of salsa; perfect for canning.
Ingredients:
14 Tomatoes
2 Onion
3 Jalepenos
1 bunch Cilantro
1 Green Pepper
1/4 cup Lemon Juice
1 tbsp Salt
1 tbsp Sugar
6 Garlic Cloves
1/2 cup Cidar Vinegar
You want to get the skin off your tomatoes first. This is easiest if you blanch them for just a minute and then dunk them into ice water. Those skins will just slide right off.
You don't NEED a food processor for this recipe, it'll just be a chunkier salsa without it. But I chopped up all the ingredients in my food processor and them dumped them into a stock pot. My food processor couldn't hold all of it at once, so I'd just do a little at a time, dump it into the pot and then chop some more until it was all done.
(Tip: If you are using a food processor to chop, chop the tomatoes by themselves. They have enough water in them with out adding anything. When you chop the rest of the ingredients, use the lemon juice or vinegar to add the needed moisture to pull your ingredients down into the blades. Otherwise you'll be stopping and starting a lot to push the dry ingredients down.)
If you want fresh salsa, you're really done at this point. Stir to mix it all up and put in the fridge for a while to let the flavors marinate together.
If you want to can your salsa, cook on the stove for about 10 - 15 minutes.
Pour into your jars and process them for 15 minutes in a water bath canner.
Enjoy!