Last year I wrote about a problem we had with our squash plants called
squash wilt
. It's a disease that effectively kills your plants and prevents any harvest. We've had a little of it this year, but not as badly as last.
I've been kind of surprised at the number of hits I've gotten in regards to that post. So, I want to also add some info about another squash and zucchini plant problem. Squash bugs.
Hubs and I have a personal vendetta with these annoying little buggers. They lay their eggs on the plant leaves. Typically underneath, but sometimes on top too. They eat holes in the leaves preventing the plant from gathering energy from the sun and putting that energy into growing squash.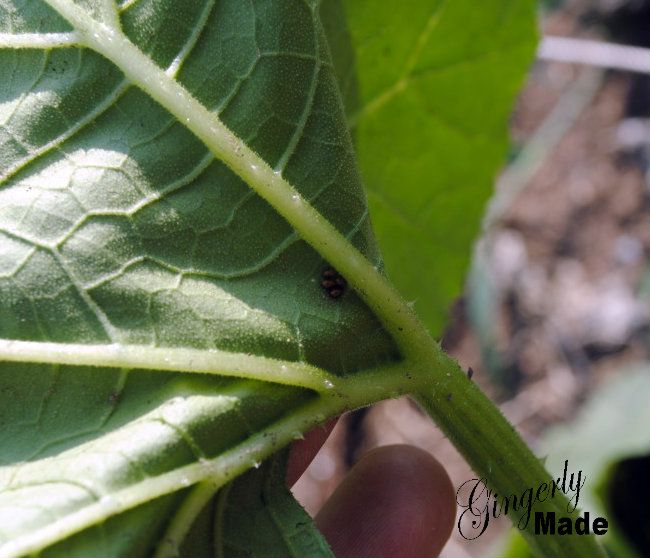 It's best to cut out the eggs. Yes, it will make a hole in your leaf too, but it's best have a few little holes than to have tons of giant holes feeding the bugs. Plus if those don't hatch, they can't lay more eggs and you help get rid of the bug infestation.
You can also start looking for these ugly things. They are related to the stink bug, so don't squish them with your hands. Use the flat of your knife (The one you used to cut the eggs off the leaf.) and squish them with that.
You can also use a pesticide which will help get rid both squash bugs and the cucumber beetles that carry the squash wilt bacteria. I don't like using pesticides though. So we try to
plant herbs that repel certain bugs and also use nicotine on our garden
. We didn't spray the Nico-Tea (nicotine tea) this year and our oregano didn't do very well either. I think think that's why we've been having a little trouble this year. We'll have to be more diligent next.