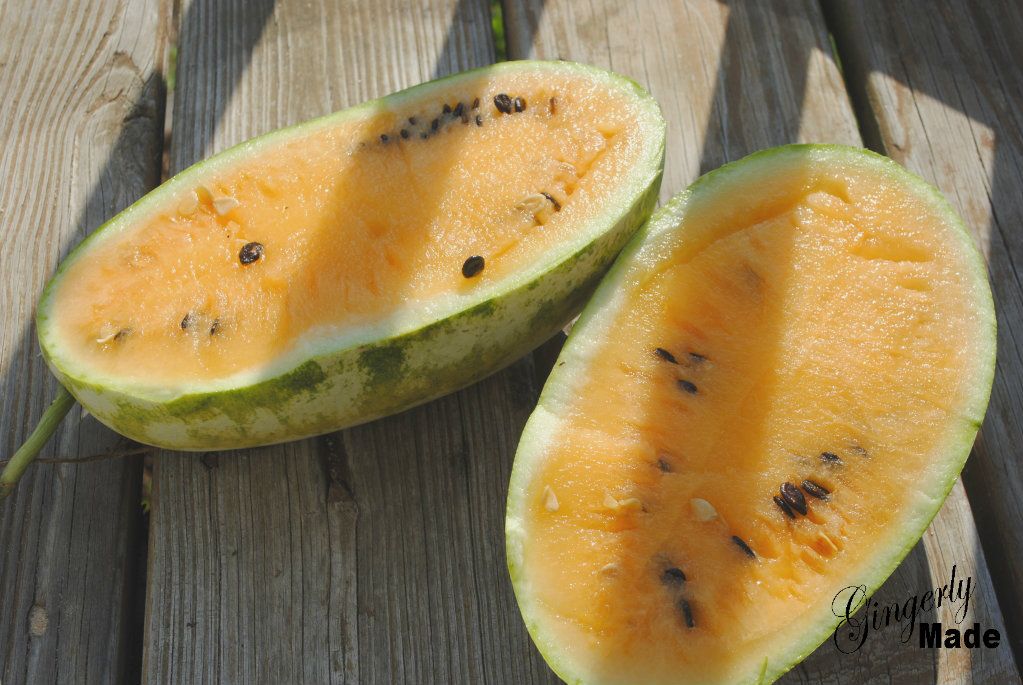 Instead of sharing a recipe this Friday, I want to talk about a food that doesn't need a recipe at all. You just eat it as is. I stopped at a booth at our local farmer's market early this spring. I can't remember what it was for, but they gave out seeds for North Carolina Mountain Sweet Yellow Watermelons. I had never heard of a yellow watermelon before! Have you?
So, we attempted growing watermelons for the first time this year. The vines actually grew pretty well in our raised bed on the deck. But not many fruits formed. I think we had four or five watermelons start. They grew as big as my thumb and then died. All except one.
I kept watching it and watching it. It never got to a full watermelon size. This variety should grow 25 - 30 pound fruits. After awhile of it staying the same size, I figured that was as good as it was gonna get, and picked it.
Although it was a little thing, it sure was tastey. It mostly tastes just like any other watermelon. I say mostly because there was this slight difference in flavor to me. Maybe it was just the sweetness?? Hubs didn't notice any difference in flavor and he's usually quicker to notice slight flavor differences in foods.
We are saving the seeds and plan on trying again next year.
Anyone out there a watermelon grower? Have any tips for me?