Do you ever have those moments while you are shopping where your kids find something in the store that they just have to have? You don't really want to buy it for them, but you get it anyway because it's just not worth the meltdown if you don't. Of course you do! Your a mom!
That happens to me WAY more often than I'd like to admit, but it gets me through my shopping. So the question then becomes, what do you do with a giant bag of rhinestones that you bought when you caved into the pitiful pleas of your little one? You make a big snail with it. Duh!
This project totally started out as something to do with the junk that I got. But now that I'm done with it, I kind-a love it.
First we painted a canvas with the last bits of blue acrylic I had. Again, something random for Caitlin to do to keep her hands busy.
Then I drew out my famous little snail. I draw it for her quite often.
Then Caitlin, Hubs, and I sorted and sorted and sorted.
Finally, after the kiddos went to sleep. I hot glued these little bitty things one by one onto the snail.
Ok, so now I've got a snail and he's cute, but what do I do with him??? I try keep my crafting to practical things that I'll actually use. Maybe I could decorate one of the girls' bedrooms or in the playroom? Finally, after making our
pallet bench
, I thought he'd be cute outside. But he's not really an outside kind of thing.
So I did what you do to all things if you want it to go outside. I covered it in polycrylic! Then I added some eye hooks and strung it up on the deck. I used sisal twine on the top and the bottom so it wouldn't be swinging all over the place during the next storm.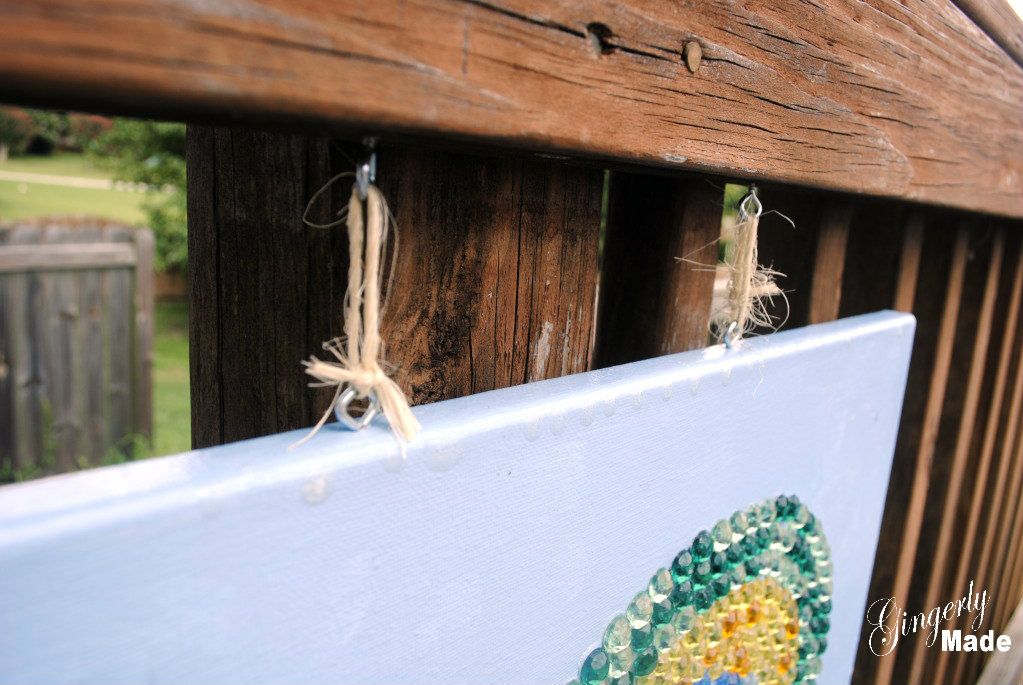 Now I've got a cute little piece of art on our deck. And some random thing turned into something I really love!