I bet you didn't think I'd ever get around to doing our master bath reveal! Some days I didn't either. The whole mirror catastrophe delayed us by months. Who knew getting a little piece of hardware would be so difficult? And then after the mirrors were finally put up, we had the little touch ups to finish. Those little touch ups took us months too. It probably only took us an hour of time to finish it up once we actually got to it.
Anyway, I

LOVE

our bathroom now!
In case you forgot it used to look like this.
Ew. Metalic bathroom paint + builder grade everything in a 10 year old bathroom = ugly and in desperate need of a makeover.
We started as most remodels do with a new coat of paint. We used Etched Glass by Martha Stewart Living. I also painted the bathroom cabinets. They look like a rich chocolate brown. But it's actually a purple paint - it's just so dark it looks chocolate. Sorry, I didn't write the name of that one down. Then we replaced all the faucets, hardware, and furnishings with brushed nickel.
We were going to frame out our giant builder grade mirror to keep costs down, but that didn't quite end the way we planned. After we
dropped and broke the mirror
, we ended up buying these mirrors that swivel. The swivel is great because Hubs is rather tall and tends to have to duck to see himself in other mirrors.
Shabby Chic touches with the
water lilly painting
,
crate shelving
,
decoupaged photo
and
cherry blossoms
just add that one-of-a-kind element. I really love the pop of pink the cherry blossoms add to the room. I just might have to find a few other pink things to add.
Here's what we've got now.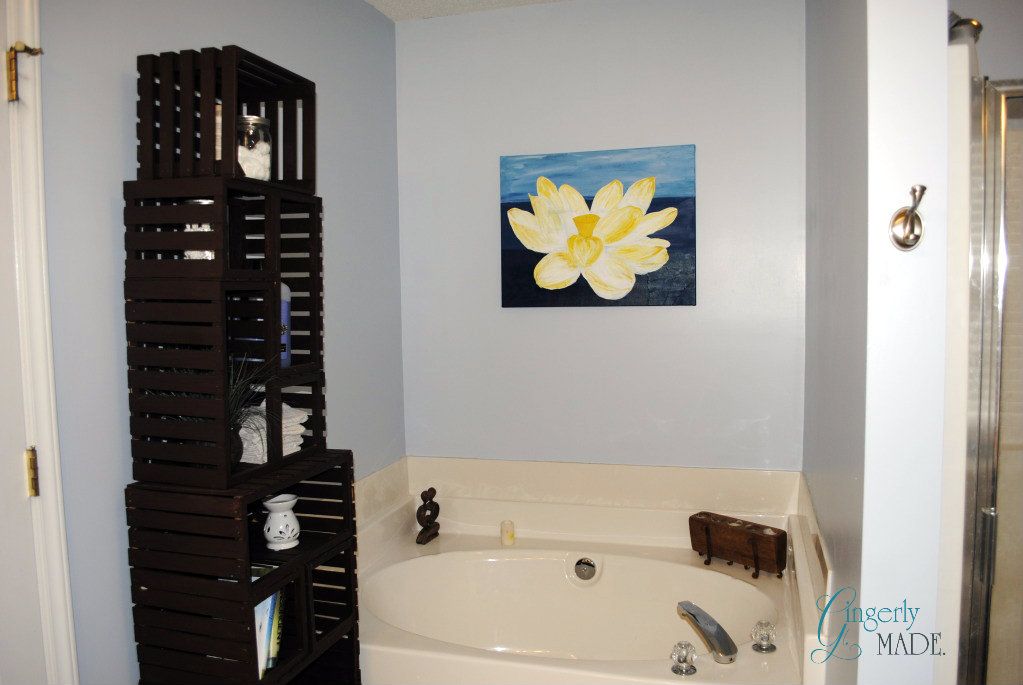 Now if I can only escape from my separation anxiety phase kiddos, you'll probably find me here.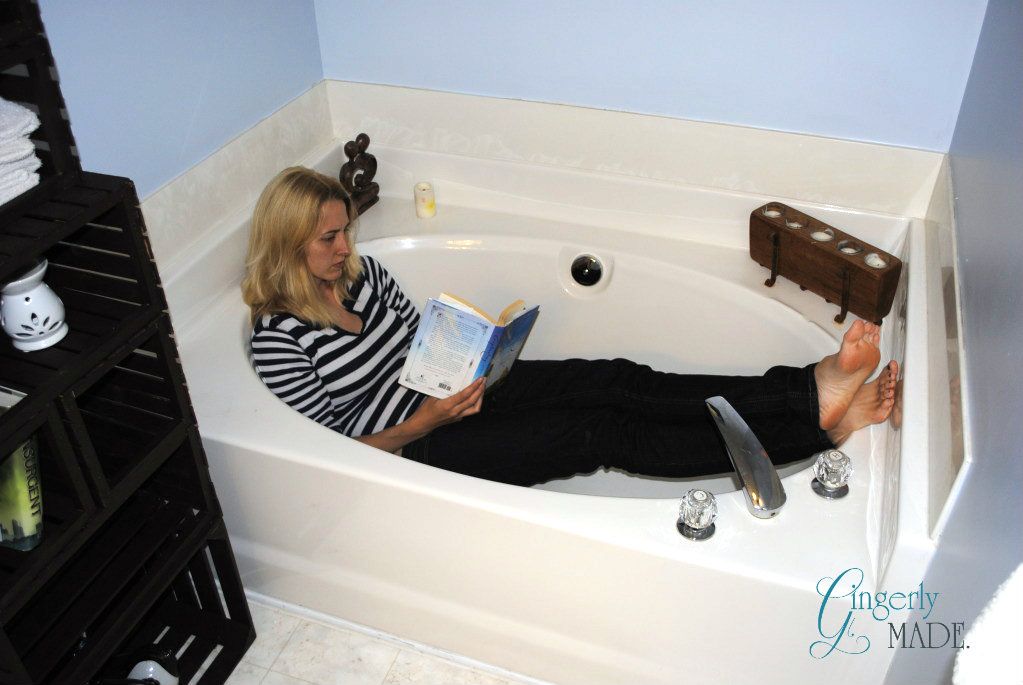 But, I can't even take a picture with the kiddos wanting to get in on all the fun. Oh well. I love being a momma! And yes, Caitlin is dress up like a kitty cat. I just got her Halloween stuff and she couldn't resist trying it on right then. And I couldn't say no.