Some days it's hard to believe that my baby is one year already! Then other days I just look at her and how much she has grown in the past year. She's walking and babbling, loving and fighting with her sister. She is the sweetest little baby full of smiles and giggles.
I don't have to see Eric walk in the door. I know he's there because of the squeals of delight and the Da-da Da-da I hear from Hayley when he gets there. She
loves
her Daddy!
She loves her Mommy too. She doesn't call my name very often; only when she's really upset and needs rescuing. But when it's time to sleep, I'm all she wants. And all I have to do to get one of the best hugs around is kneel down on the floor and hold my arms out. Hayley comes running with the biggest grin on her face and falls right into my arms.
Watching Caitlin and Hayley together is amazing. They are so sweet sometimes; giving each other hugs and kisses. Caitlin likes to pick Hayley up and move her from place to place. Sometimes Hayley minds and other times she doesn't. Then there are the times they fight like only sisters do. Not growing up with my sisters makes it difficult for me to understand, but I know at the end of the day they love each other, so I just try to roll with it.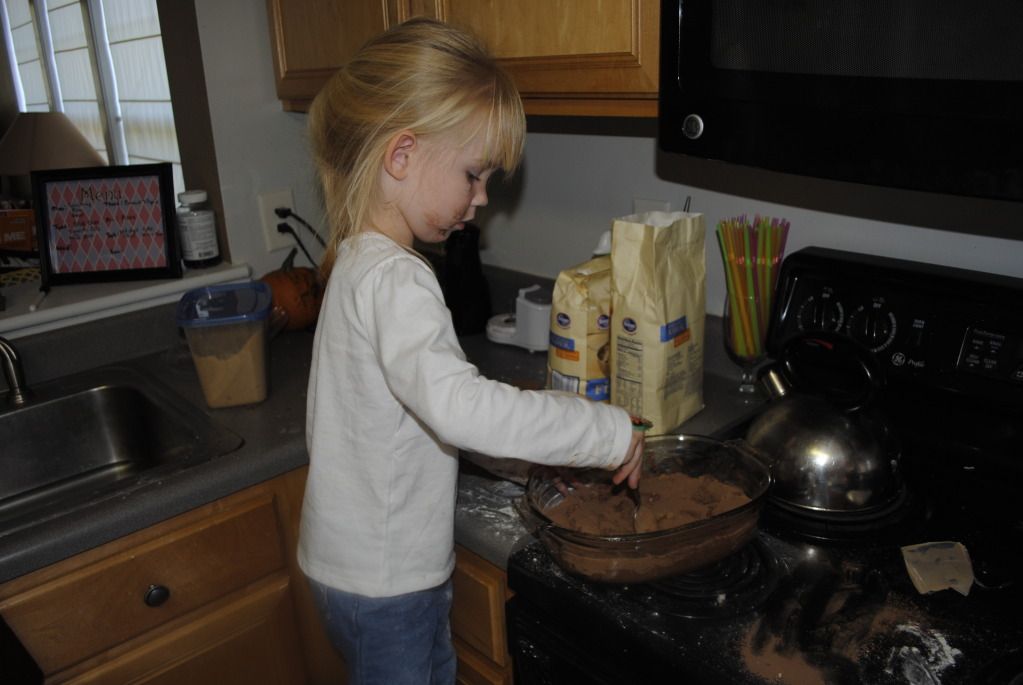 Caitlin wanted to make a birthday cake for Hayley. We made a hot fudge pudding cake. Mmmm.
Not the best picture, but it was sooo good.
I was so scared to be a mommy of two. Much more scared than becoming a mommy of one. This year has brought a lot of adjustment for our little family. For me, it has meant learning that it's ok to let my girls cry sometimes. I never really did that with Caitlin when she was a baby. But having two means having to take care of one when the other is upset. Not always, but it happens; especially at bed time.
Despite the learning curve, Hayley has brought so much more joy to our family. She is a happy baby and hearing her little giggles makes my face and my heart smile. I'm getting teary now as I write this. Now that she is one and walking around, we've been really enjoying how much more the girls can play together. Caitlin has taken to pushing Hayley in the swing and toy car. It's beautiful! I can't wait to see how much more they are going to play together over the next year.
I can't wait to see what the future holds for you little Hayley. I love you baby!