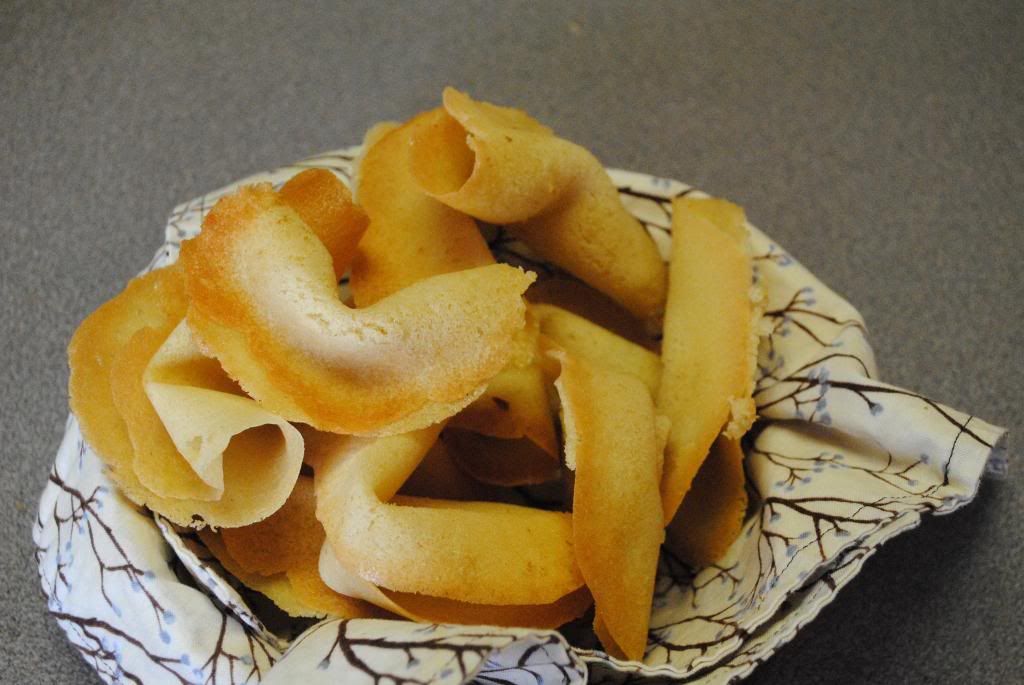 Whether you are celebrating Chinese New Year or just want a fun and different dessert, these homemade fortune cookies are a lot of fun to make and a hit with kids and guests.
1/2 cup (1 stick) butter
1 cup sugar
2 teaspoons vanilla extract
4 - 6 egg whites
1 cup flour
Preheat oven to 350 degrees. Oil a couple of baking sheets.
Beat butter and sugar together until light and fluffy. Add vanilla.
Beat in egg whites. Start with 4 and add more if necessary. You want the batter to be thin but not watery.
Add in flour.
Drop 1 tbsp of batter onto baking sheet. You can usually fit 2 or 3 cookies on a sheet at one time. They will spread so give them plenty of room.
Bake for 8 minutes. Baking longer makes the cookies too firm to shape so set your timer.
**Caution burnt finger tips ahead**
Once out of the oven, use a spatula to lift the cookie off the sheet. Fold in half and set on the rim of a glass bowl to shape. The cookies are HOT, so do this quickly to avoid burning your fingers.
And there you have it; a cute crescent shaped homemade fortune cookie.
Just print or write our a few fortunes and thread them into the cookie for a fun little treat.
Enjoy!!
Linking up to
these link parties
.